I advise on all types of lighting but I tend to specialise in outdoor projects and there are two recent trends which I am often asked to address.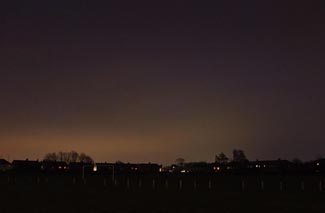 The first is the legal protection of bats. They are nocturnal creatures and the installation of any artificial light at night (abbreviated to ALAN) needs careful consideration. I have done a lot of projects for clients needing help with lighting where there are bats present.
The other factor is the increasing interest in dark skies and this is what the rest of this blog is about.  In particular, a lot of thought is required in the lighting design of AONBs and Dark Sky parks.
One of the easiest ways of minimising sky glow and light pollution is to reduce the amount of light going into the sky. You can't do much about the light reflected upwards off the ground apart from reducing the hours the lights are switched on or, if it's feasible, reducing the illumination level.   
What you definitely can control is the light emitted upwards from the light fittings. Light going into the sky is simply wasted energy and contributes to skyglow for no benefit to people or the night environment. Thankfully, we have moved away from opal spherical lanterns, "fishbowls", which directed half their light upwards; they are just so last century.
The solution is to use "flat glass" floodlights or streetlights. This where the cover glass is horizontal, and therefore emits no upward light. They are optically engineered so that the most intense part of the beam is emitted between 50 – 70 degrees so it can throw the light forwards or sideways over a long distance. You can illuminate anything from a single tennis court to a football pitch or container yard with this type of fitting whilst emitting zero upward light.
What you should definitely avoid are budget floodlights which don't have any optical control such as reflectors or lenses. These floodlights often have a beam which is 140 degrees wide so you would have to point them almost straight at the ground to avoid upward light. And in that case, half the light would be emitted backwards - this is a total waste with wall mounted units.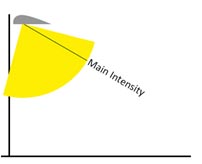 With the flat glass floodlight, you don't have to tilt it. The most intense part of the beam is emitted at 50 – 70 degrees and none is emitted upwards.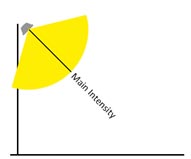 The budget floodlight can't be tilted more than 20 degrees before it starts to direct the light skywards. If you aim it at 45 degrees as shown here, a lot of light shines upwards. Even so, some light shines behind the floodlight.
There is one exception to the rule of no upward light and that is when using bollards. When I was the technical editor of a lighting magazine, I wrote a review comparing a dozen different bollards. Some of these performed brilliantly and emitted zero upward light. However, no upward light means that whilst you could clearly see obstacles on the ground and people's feet and legs, you couldn't see their faces! Even just 5% or 10% upward light is usually sufficient for you to see the whole person. Remember that the actual quantity of light (lumens) emitted upwards is very small and will hardly contribute anything to skyglow. 
There are many other closely related topics such as obtrusive light, legislation, Warm and Cool LEDs, glare, H&S at work etc. If you would like a blog on a particular topic or want to learn more about this one, just email me.